Our company philosophy is to have an engaged group of like-minded people undertaking excellent engineering in a collegiate atmosphere. 
EDG Consulting Pty Ltd provides design, engineering, advice and geosciences services to private, public and government clients over a wide range of market sectors. Engaging with our clients to understand their needs, objectives and risk profile is fundamental in establishing the parameters for engagement. 
Our philosophy is to use our experience and expertise to develop designs that are practical, constructible and cost-effective, based on our client's needs and the conditions evident.  Critical to the process is the understanding of the site conditions, enabling the development of design models beginning at geology and progressing to analytical.  Based on the understanding of client objectives and risk profile, experience and analyses will be used to identify, develop and document design options. 

In keeping with one of the key principles defined at the formation of EDG Consulting, we have established the EDG Fellowship.  The EDG Fellowship is a fund established to provide charitable support for people and organisations within the engineering and geoscience profession.  Created under the umbrella of the Australian Philanthropic Services Fund, we aim to assist the development of people within the industry and the industry itself, with a preference for encouraging participation from those that may otherwise be constrained from doing so.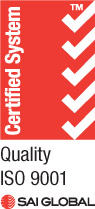 Quality Management System
EDG operates under a quality management system that is certified compliant to ISO9001:2015
Authority Pre-Qualifications